Nanomedicine Living Lab opens
31 October marked the official kick-off of the Nanomedicine Living Lab, a collaboration between Radboud University, Radboudumc and five private parties. Together these partners will organise a setting that facilitates the entire drug development chain. The living lab also aims to establish a wide network for sharing knowledge and expertise in the eastern part of the Netherlands. The €1.4 million project is made possible in part by financial support from the European Regional Development Fund (ERDF). It will be led by Professor Floris Rutjes (Synthetic Organic Chemistry) and Professor Daniela Wilson (Systems Chemistry).
Living lab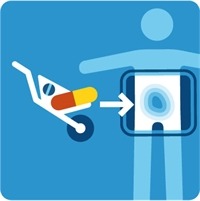 A living lab is a facility where products can be tested in the development phase under realistic conditions. Seven public and private parties will bring their facilities and expertise to the Nanomedicine Living Lab: Radboud University, Radboudumc, FutureChemistry, Mercurna, Cytofind Diagnostics, In Situ Insights and Pharmacytics. This regional network will continue to expand throughout the duration of the project because parties outside the consortium can also use the living lab.
Nanomedicine
Nanotechnology can help researchers make 'smart' adjustments that optimise the effects of drugs. For example, it can help ensure that the active substance can bind more selectively, that it can be transported to the right place in the body or that the drug can be made more perceptible in the body. This type of molecular modification of various drugs will be researched and tested at the Nanomedicine Living Lab. Because these new techniques and the necessary analytical equipment will also be accessible to third parties, the living lab will stimulate innovation at the intersection of drug development and nanotechnology.
Source: Radboud University